Granola is one of the best choices as a breakfast or snack recipe, it's full of vitamins and it gives you the energy you need for a busy day.
Granola is always delicious especially if t's mixed with healthy ingredients like raisins and sunflower seeds, and what makes it more delicious is making it at home and adding your favorite ingredients to it!
 Pin it to make it later!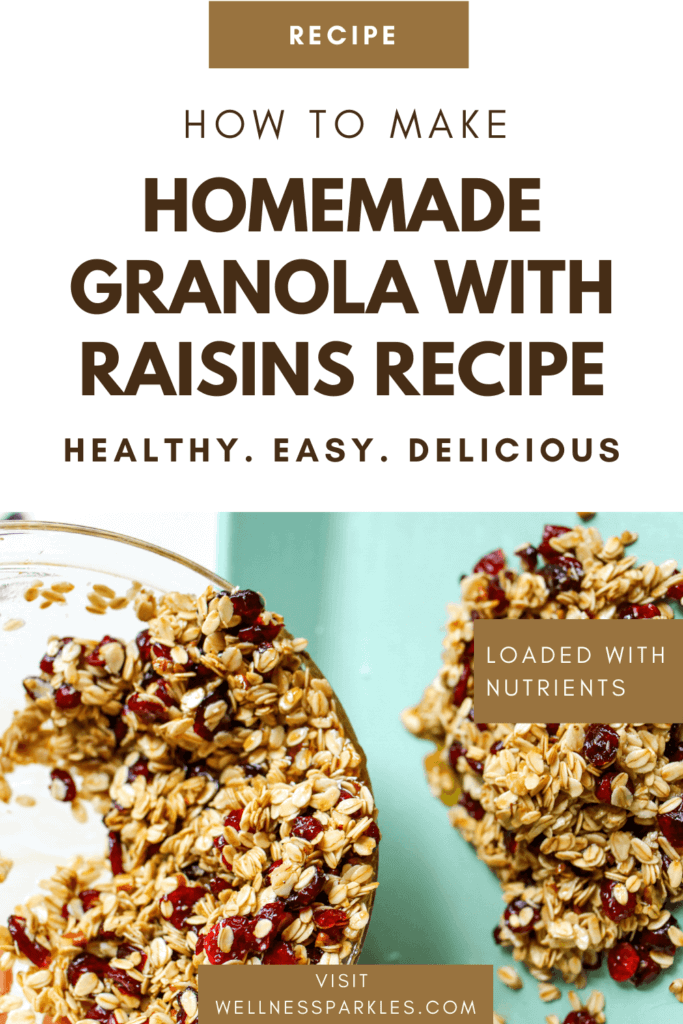 why I like this recipe:
Besides that it's so delicious and way better than the granola in the grocery store, it's gluten-free and it has so many health benefits such as:
Health benefits of raisins:
It May help you lose weight

Boosts immunity

improves heart health

Regulates cholesterol
Health benefits of oatmeal:
Reduces blood pressure

Stabilizes blood sugar

Loaded with antioxidants
How to make homemade
granola with raisins recipe
Now let's make it!
Prep time: 10min
Cook time: 20min
Total time: 30min
Servings: 25
Ingredients:

:
360g (4cups) rolled oats

55g (½ cup) slivered almonds

65g (½ cup) sunflower seeds

¼ teaspoon salt

½ teaspoon cinnamon

170g (½ cup) organic honey

2 tablespoons of coconut oil or olive oil

80g (½ cup) raisins
Instructions :
In a bowl put the oats, almonds, sunflower seeds, salt, and cinnamon

Mix well

Add the organic honey and oil

Mix well

On the baking sheet spread the ingredients evenly

Bake at 350F for 20minutes. Don't forget to stir every 10minutes

Remove from the oven and allow granola to cool completely, then add the raisins.

Stir well. And then break the granola into pieces.

Store in a glass airtight container on the counter for up to two weeks.
More healthy recipes for you to try!
NUTRITION FACTS:
Amount Per Serving (30g)
Calories: 112 kcal

Total Fat: 3.8 g

Saturated Fat: 4 g

Monounsaturated fats: 0.6g

Polyunsaturated fats: 0.8g

Trans fats: 0 g

Sodium: 70 mg

Total Carbohydrate: 17 g

Dietary Fiber: 2 g

Sugars: 5.2 g

Protein: 3 g

Calcium: 13.5 mg

Magnesium: 25.4 mg
5 Ways to eat this delicious granola: 
Eat granola with milk

Eat granola with yogurt

Add granola to a salad!

Eat granola with a spoonful of peanut butter

Make granola into the trail mix by adding some dried fruit mix-ins.
 Don't forget to Pin it to make it later!