Natural yogurt snack with wheat bran and chia seeds for a healthy gut
Lately, I've been experiencing a lot of new recipes especially natural yogurt snack recipes with more new different ingredients. And by lately I surely mean since March of the last year but as you may already noticed we kind of lost the sense of time because of this lockdown.
So trying to come up with new ideas and invent new things I was looking for new snack ideas to make that can be healthy and easy and of course with simple ingredients that are already available at home.
I've been taking natural yogurt almost on a daily basis to help my microbiome and digestion, and also I've trying to add more bran to my diet since it's loaded with fibers that also helps with digestion ( yes you guessed it right I've been suffering from digestion issues this last year because of all the stress and worrying)
And then I came up with this amazing natural yogurt recipe ( I have no idea if others before me already made it) that I found to be very helpful to my digestive system, quick, and very easy to make! I make this snack recipe at night like 2 hours before bedtime, it helps me a lot with digestion.
Now, let me tell you why I choose this combination of ingredients:
Some of the health benefits of this natural yogurt snack with wheat bran:
Natural yogurt benefits:
A great source of probiotics.

Helps ease gastrointestinal issues

Source of calcium and vitamin D



Wheat bran benefits:
wheat bran has a lot of benefits for your body and especially your gut, because it's:
Loaded with vitamins and fibers

Helps with digestion

magnesium and iron

May prevent cardiovascular disease

May prevent obesity

May prevent gastrointestinal diseases
Chia seeds benefits:
Loaded with omega-3 that may help with lowering blood pressure and reducing triglycerides

antioxidant-enriched

improves digestion

Stimulates metabolism

May prevent breast cancer

Helps to detox the body
Almonds benefits:
Good for your heart health because of all the monounsaturated fat
Rich in vitamin E that helps with immunity and

protects cells from the damage caused by free radicals
Learn more about how nuts can be good for your health
So as you can see this is not just delicious but it's a very healthy snack as well!
I usually don't add it because I prefer the natural taste of the yogurt to stay the same but sometimes when I'm craving something sweet I can add 1 tsp of honey and mix it with the bran and natural yogurt
You can add some organic honey to the ingredients. I usually don't add it because I prefer the natural taste of the yogurt to stay the same but sometimes when I'm craving something sweet I can add 1 tsp of organic honey and mix it with the bran and natural yogurt.
What else can I eat with natural yogurt?
You can still be enjoying a healthy natural yogurt snack even if you don't have any of these ingredients in your kitchen, you can also add other healthy options like:
Berries (or some other fruits of the season)

Other types of nuts

Raisins ( I add them sometimes when I'm craving some sweet food)

some chopped pieces of dark chocolate

sunflower seeds

pumpkin seeds

flax seeds ( just 1 tsp)
Now let's get to the recipe!
Pin it for later!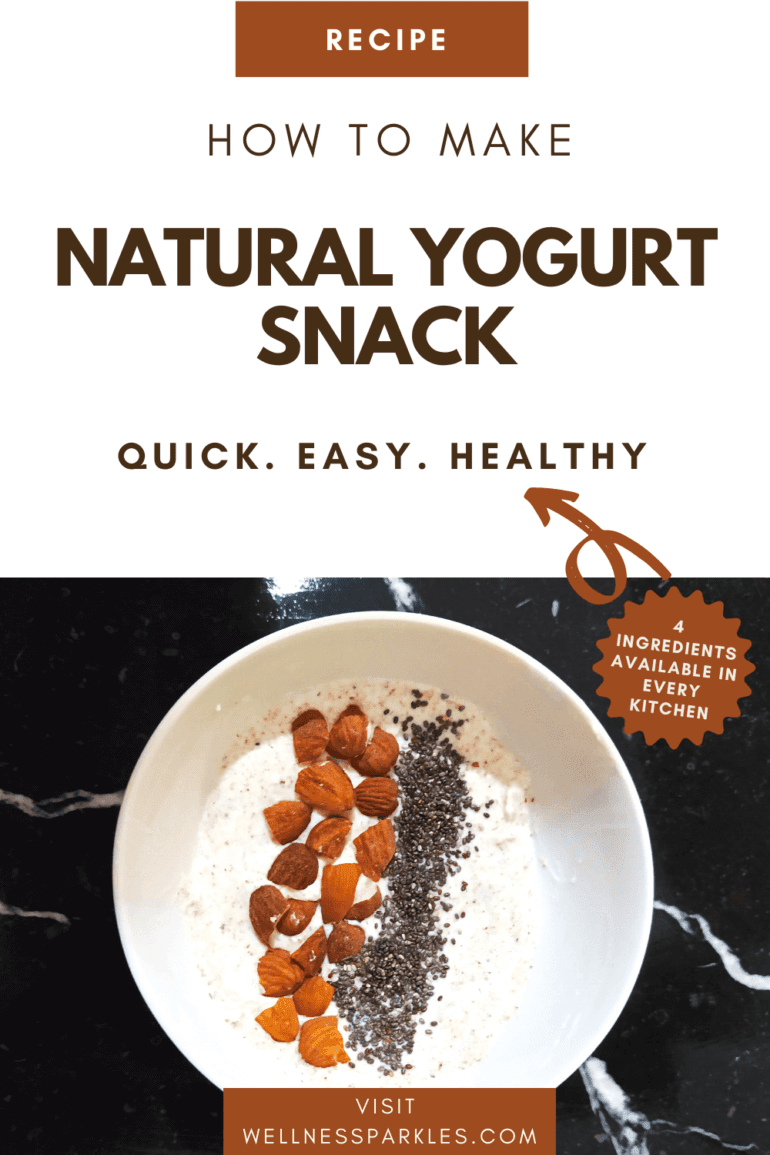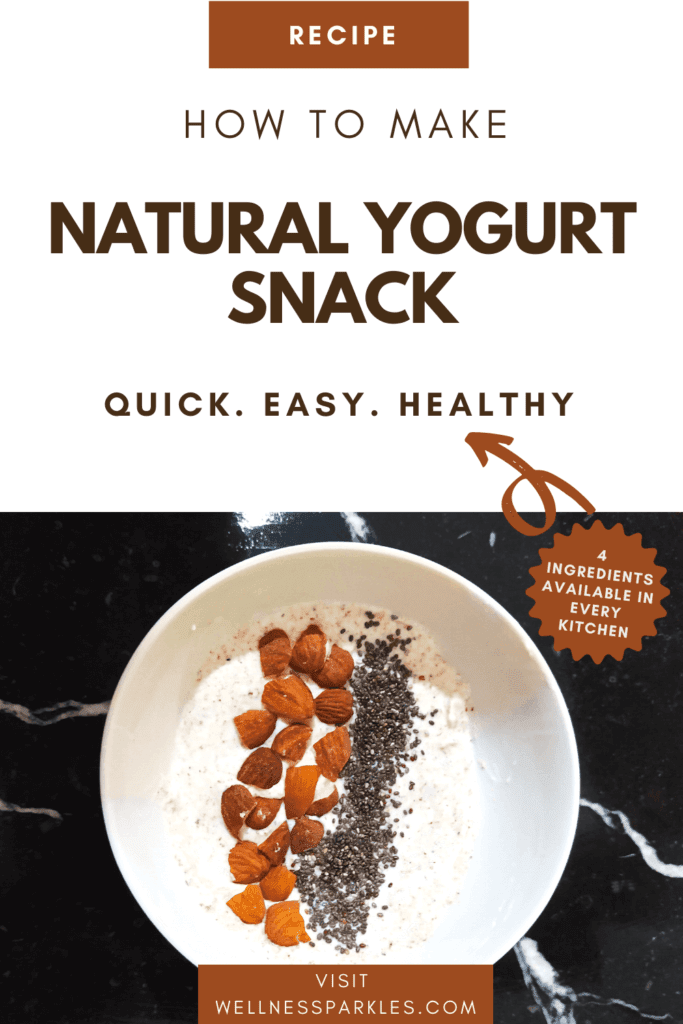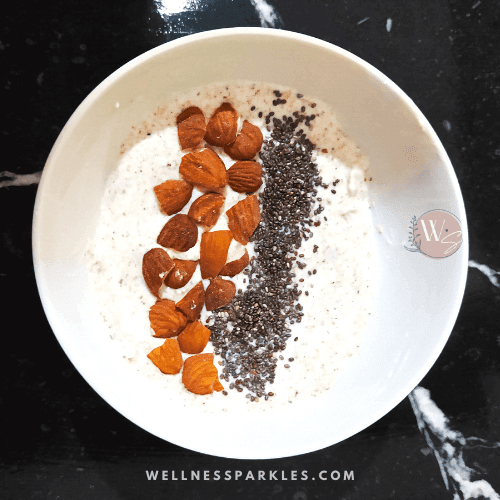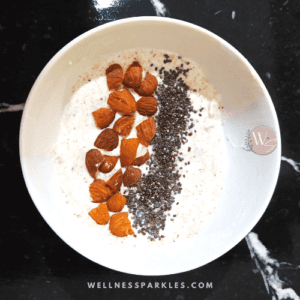 Natural Yogurt And Wheat Bran Snack Recipe
Healthy, quick and easy natural yogurt snack recipe, wwith heat bran, chia seeds and almond. Delicious and good for your digestion, your immune system and your overall health!
Ingredients
1

natural yogurt or Greek yogurt

choose the one you want both work just fine

2

tbsp

wheat bran

(already roasted)

1

tbsp

almonds

chopped

2

tsp

chia seeds
Instructions
Put the wheat bran in a bowl

Add the organic honey if you want.

Add a tsp of chia seed and mix again

At the end put the almonds and the rest of the chia seeds on top and bon appetit!
Important things to keep in mind:
As delicious as this snack is sadly it is still not for everybody, for example:
If you're allergic to any of the ingredients

If you're on a gluten-free diet

Lactose intolerance even though yogurt has a low lactose intolerance you should ask your doctor before making it

Don't take too much wheat bran it may cause bloating and a study showed that adding 15 g of wheat bran to your diet decreased modestly the bioavailability of vitamin B6. Although this decrease never exceeds 17% so this amount of bran will not adversely affect vitamin B6 when your intake of the vitamin is adequate.
Natural yogurt with wheat bran and chia seeds snack recipe for a healthy gut