Honey and brown sugar scrub is good for all types of skin because it is great for exfoliating! RAW honey is nutritious, rich in antioxidants, and also it's great for skin combined with brown sugar that is an amazing exfoliator and excellent in removing dead cells.
This is an easy DIY on how to make a homemade honey and brown sugar scrub that is perfect for all types of skin!
Before we start
Pin it and make it later!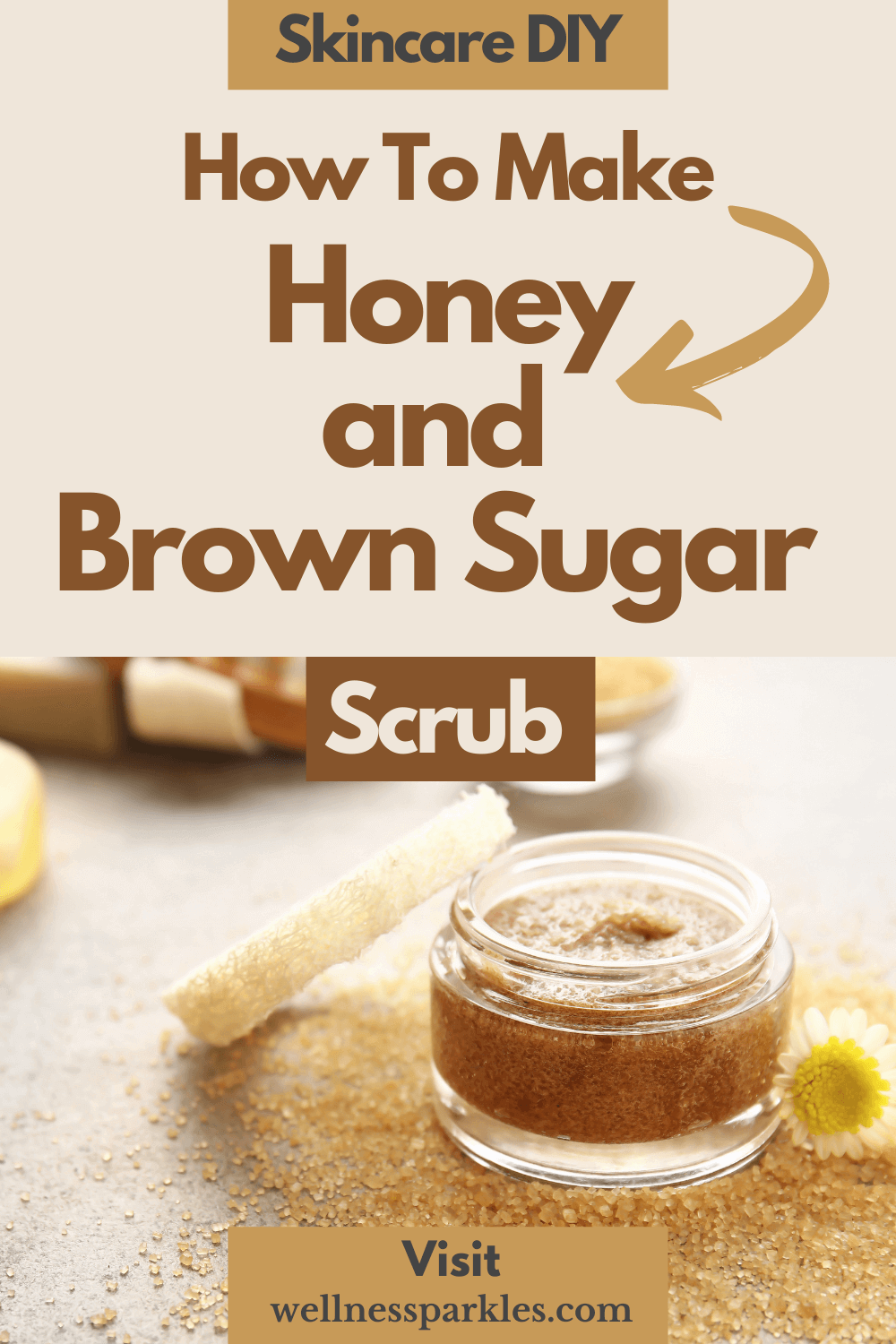 Is brown sugar and honey good for your face?
Of course! They both have so many benefits for your skin:
Brown sugar and honey scrub Benefits:
Some of the many benefits of using Honey in this scrub are:
Its antioxidant properties

Helps brighten The Skin

Its ability to fight acne

Anti-aging

, especially if you use

Jujube honey

has been proved for its

protective effects against DNA damage.

Another benefit of using organic honey in your scrub is being able to

modulate the skin immune system!
If you like more honey scrub recipes, you can check this amazing Homemade honey and oatmeal scrub DIY recipe.
What about using brown sugar? and is there a difference between using brown sugar and white sugar in this scrub?
When white sugar is suitable for all types of skin, Brown sugar is a better choice for sensitive skin, also brown sugar retains certain nutrients that the skin can use as compared to white sugar.
Other benefits of brown sugar for the skin:
Soften and soothe the skin

Great in exfoliating your skin
Can I use honey and sugar scrub everyday?
No. You should only use this scrub once a week, maximum twice. If you use it daily your skin can become sensitive.
Does honey and sugar scrub lighten skin?
This scrub with this ingredients and their exfoliating properties can make your skin clean and smooth which can make the skin look brighter.
Now I won't make this DIY post any longer, let's make this amazing scrub!
brown sugar and honey scrub recipe:
Ingredients:
The ingredients are quite simple, all you'll need is:
1 Tbsp. Raw Honey ( you can use any type you want as long as it's organic, I personally prefer

Jujube honey)


1 Tbsp. Brown Sugar

You can add 1 Tsp of oil if you want too

depending on your skin type.
Instructions:
To make this scrub, place the brown sugar and then pour the organic honey on it in a small bowl and mix together well. If you decided to add some oil to the scrub, add it while mixing.
And that's it. Yes, it's that simple!
Keep in mind:
Store this scrub in a jar with an airtight lid.

Keep it at room temperature.

Use this scrub like once a week, don't over use it to avoid making your skin sensitive.
How to use this honey and brown sugar scrub:
Wash your face well with warm water to make the skin wet.

Apply a small amount of this honey and brown sugar scrub (about ½ t.) and massage gently in a circular motion.

Leave it for approximately 15min.

Of course avoid the eye area.

Rinse your face well with cold water.
Have you tried making this scrub? let me know how did you find it!
Honey and brown sugar scrub DIY for a clear skin
Photo source: sparklesofsunshine