Get inspired with these health and wellness quotes
The wellness journey isn't easy, but it's really fun especially when it comes to having a company that will guide you and helps you. And what's best is if this company is full of wise and helpful experts. I collected one of the best health and wellness quotes from experts and wise people that I thought they'll be more informative, helpful, and inspiring to you
I put 5 sections in this post so you can choose the one that you feel relates the most to where you at currently:
Wellness quotes
Healthy lifestyle quotes
Healthy body quotes
Healthy mind quotes
Healthy soul (spirit) quotes
Don't forget to save your favorite one! Let's get started
Wellness quotes
Wellness is the complete integration of body, mind, and spirit – the realization that everything we do, think, feel, and believe has an effect on our state of well-being.
—Greg Anderson
There are six components of wellness: proper weight and diet, proper exercise, breaking the smoking habit, control of alcohol, stress management and periodic exams.
—Kenneth H. Cooper
Science and mindfulness complement each other in helping people to eat well and maintain their health and well-being.
—Thich Nhat Hanh
Wellness encompasses a healthy body, a sound mind and a tranquil spirit. Enjoy the journey as you strive for wellness."
— Laurette Gagnon Beaulieu
Yoga is at the core of my health and wellness routine; even if it's only for 10 to 15 minutes I find it helps me to re-center and to focus as well as improve my overall core strength.
—Miranda Kerr
Don't let sickness, depression, and disease THUG YOU OUT. Eat healthier, think healthier, speak healthier, and more positively over your life. When you do so, you will soon begin to conquer your life and your health through new found empowerment- mind, body, and spirit."
— SupaNova Slom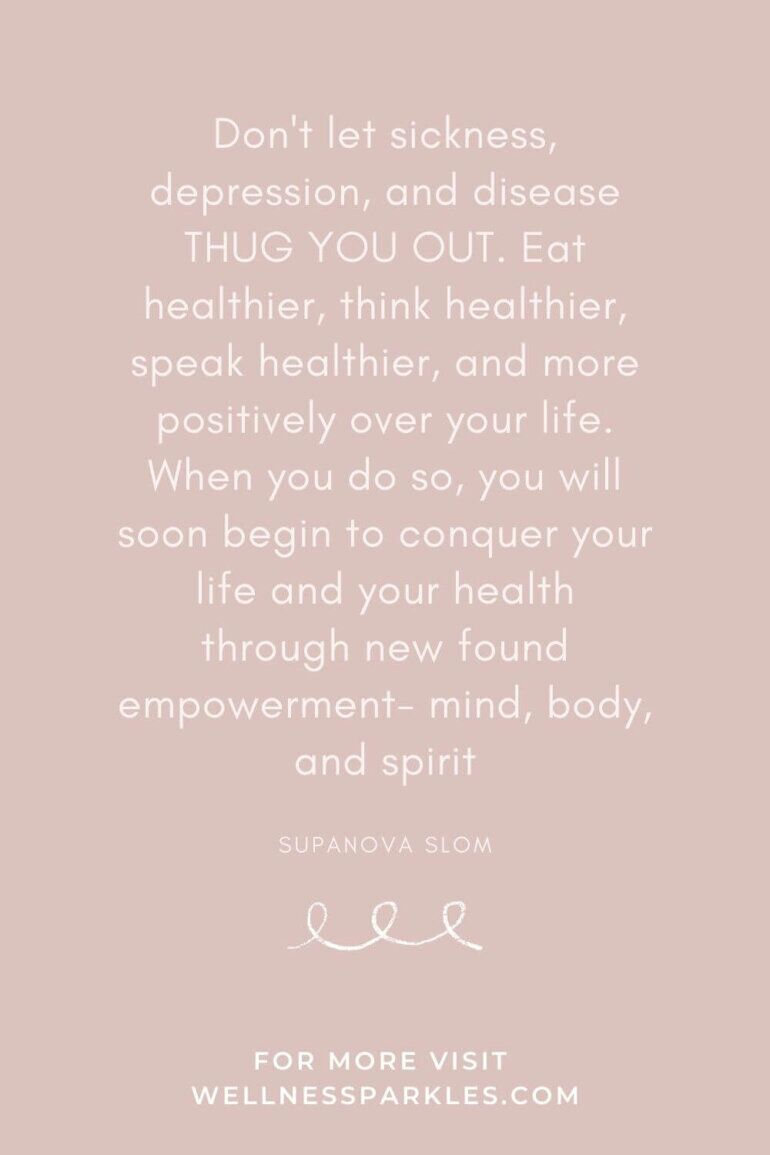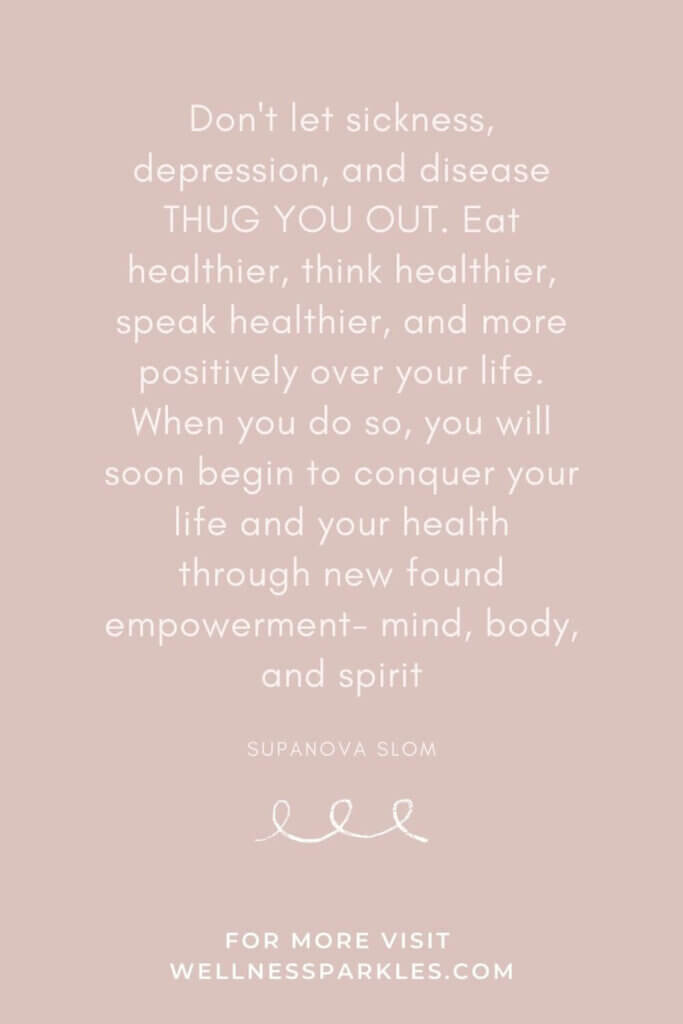 The irony is that when we take care of ourselves first, we are in a much stronger place to take care of those we love."
— Kate Hudson
Let go of toxic control, in order to regain healthy control."
— Kayla Rose Kotecki
A vibrant body, a radiant mind, a loving heart, and an honorable life."
— Stefan Emunds
The path to healthy body, and happy soul is based upon self-study, mindfulness, love and awareness.
— Nataša Pantović
Our body and mind are not independent of each other but are two aspects of the same reality. If a sound mind is found only in a healthy body, a healthy body is also impossible without a sound mind."
— Awdhesh Singh
Healing doesn't just take a little time, it also takes commitment to get started and to complete the process."
— Sereda Aleta Dailey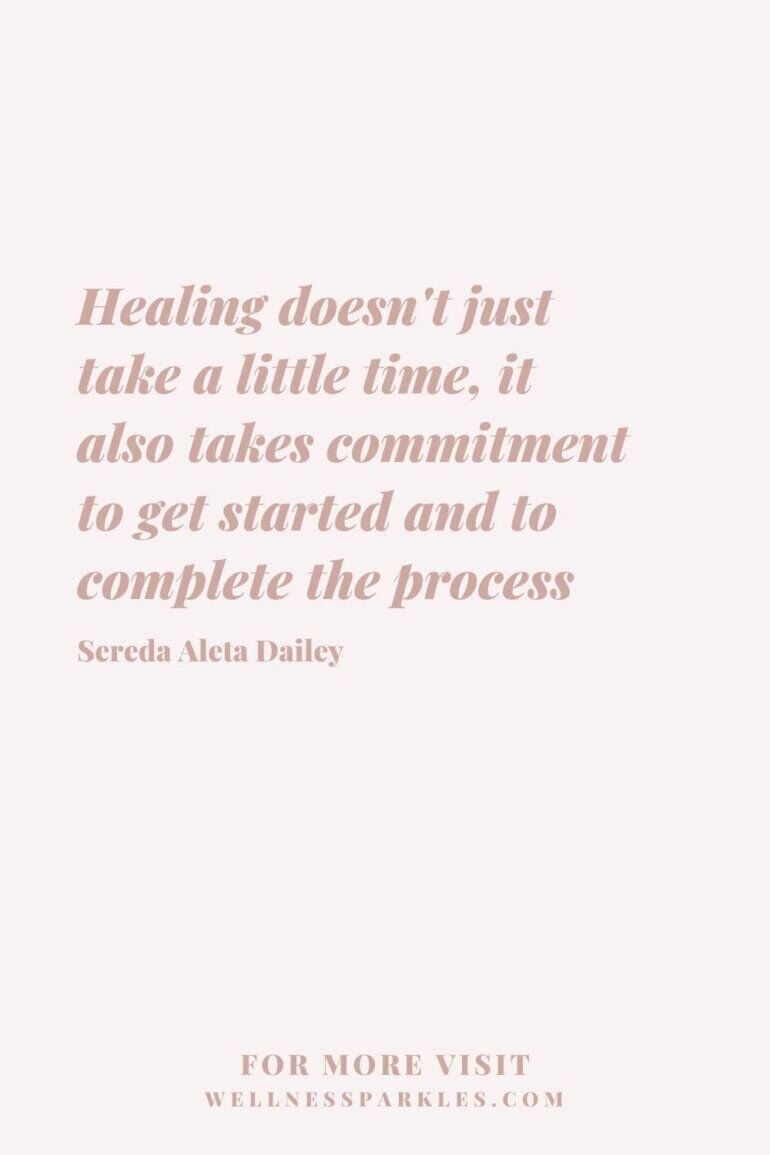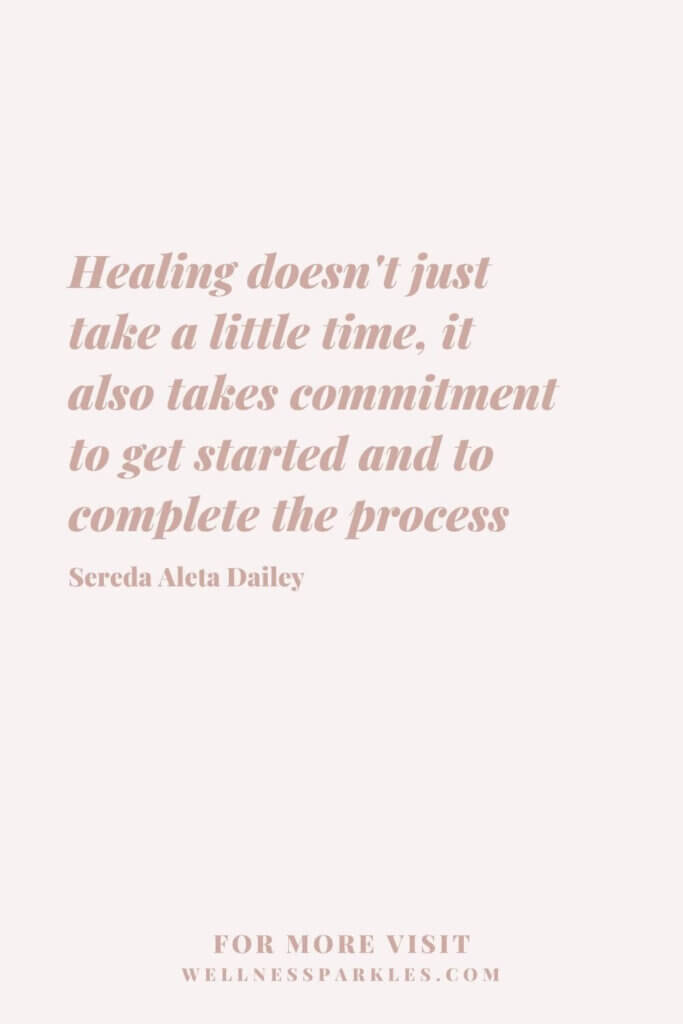 Becoming healthy and confident in body, mind and spirit is a journey that brings discovery and opportunity. It is an invitation to live a life of greater beauty, dignity, wisdom and love…to respond to our world from a place of stillness and serenity…and to live our lives from our highest purpose and potential."
— Lorrie Jones
It's up to you today to start making healthy choices. Not choices that are just healthy for your body, but healthy for your mind. ~Steve Maraboli"
— Marquita Herald
Healing is anything that restores your inner sense that all is well, and that returns you to a healthy state of empowerment."
— Susan Barbara Apollon
The life I wanted, one with healthy relationships and less regret, a healthy body and less sickness, a stronger career and less floundering, would only ever be mine if I passed through this time of darkness."
— Michelle Tea
The earlier you invest in health, the more dividends it pays later."
— Tarun Sharma
My body is healthy; my mind is brilliant; my soul is tranquil."
— Karen Civil
Healthy lifestyle healthy living
Being healthy is a way of life. It's not just about what you feed your body; it's about what you feed your mind and the social environment you keep. Make healthy food choices, exercise your body and brain, and choose your friends wisely."
― Steve Maraboli
I declare I am healthy. And I am whole in mind, body, and Spirit."
— Lynn R. Davis
More smiling, less worrying. More compassion, less judgment. More blessed, less stressed. More love, less hate."
— Roy T. Bennett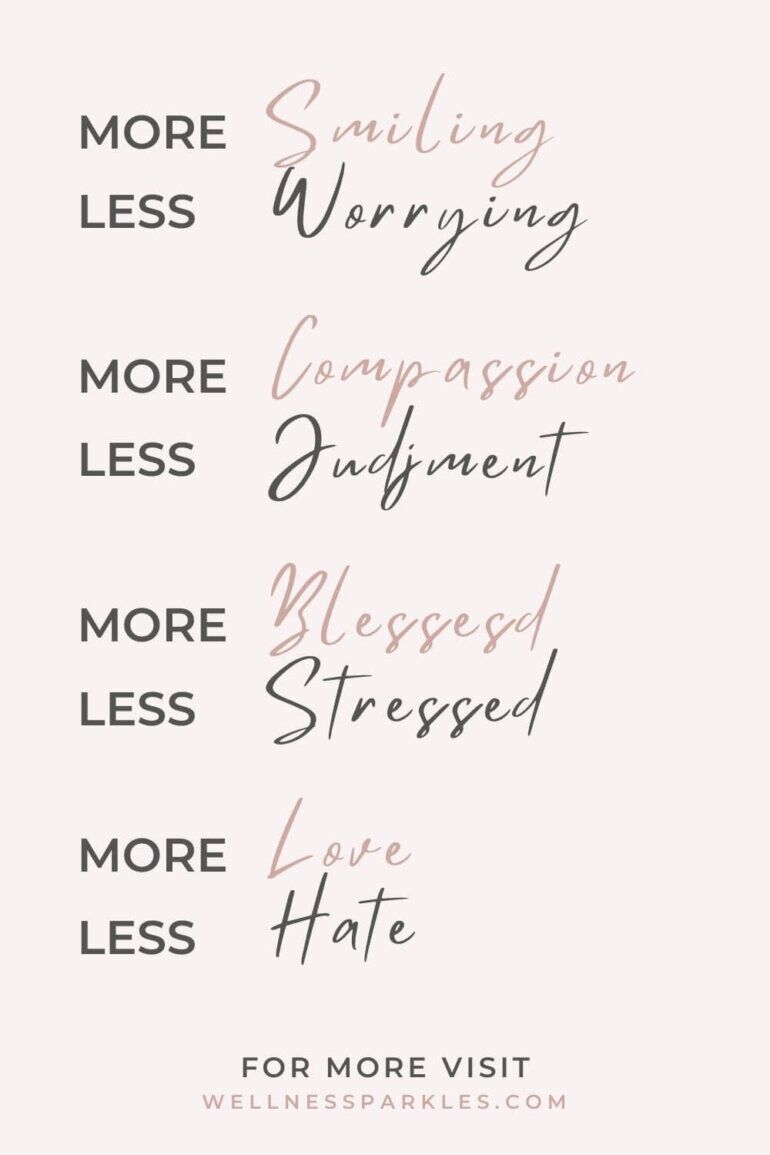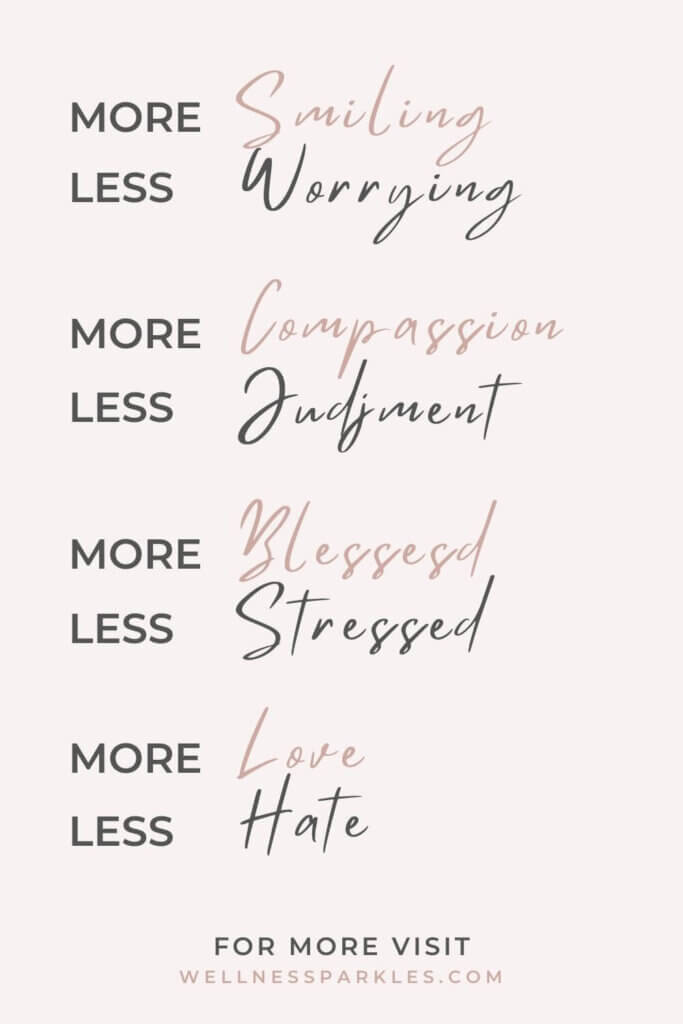 We have far more control over our health and the condition of our bodies than we ever thought possible."
— Mike Rabe
Balanced emotions and healthy thoughts sew the fertile seeds for healthy starts. Healthy living is a by-product of healthy thoughts. Therefore, the most important part of anyone's diet should be a regimen of healthy thoughts. Notice"
— Homayoun Sadeghi
Diets don't really work & can be destructive, but if you get healthy overall (mind, body, spirit) then your weight balances naturally."
— Jay Woodman
Eat good food, keep moving, and let your body take care of the rest."
— Stephen Le
Healthy body
Keeping your body healthy is an expression of gratitude to the whole cosmos — the trees, the clouds, everything."
— Thich Nhat Hanh
You can't ignore our body. It's the body that houses your healthy mind and a pious soul."
— Girdhar Joshi
Remember this: You are the expert of your body."
— Sarah Hackley
No body is worth more than your body"
— Melody Carstairs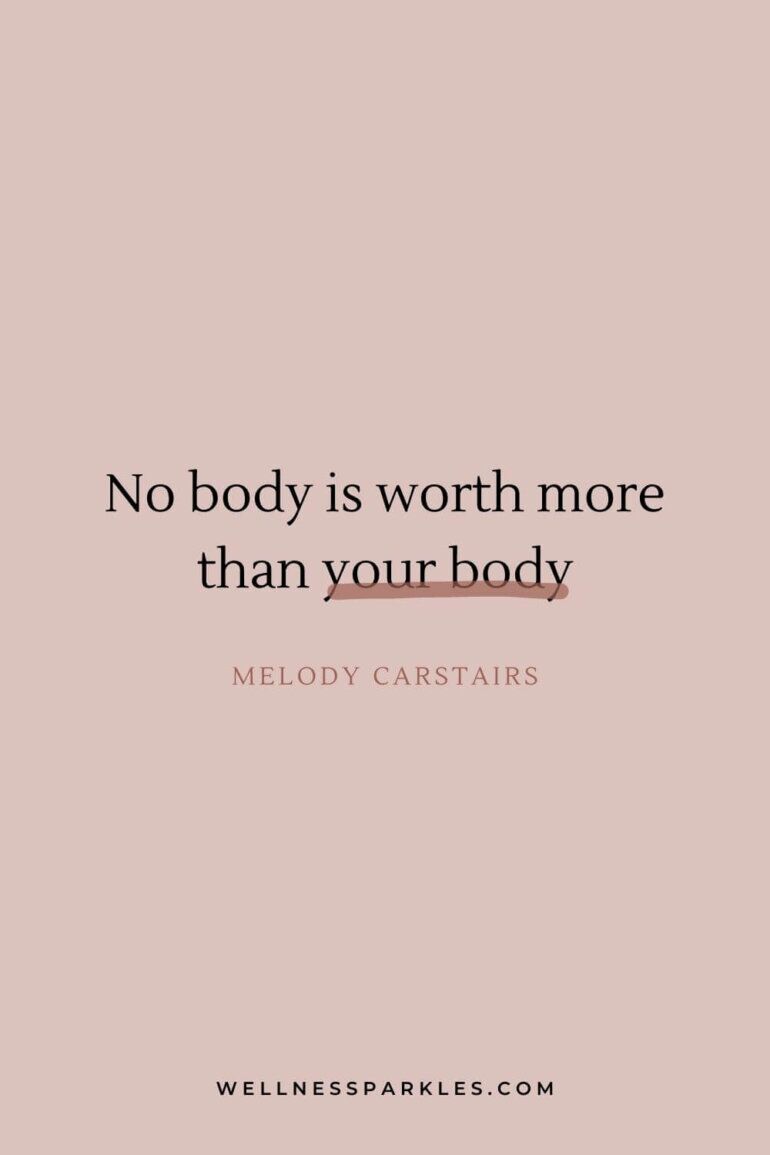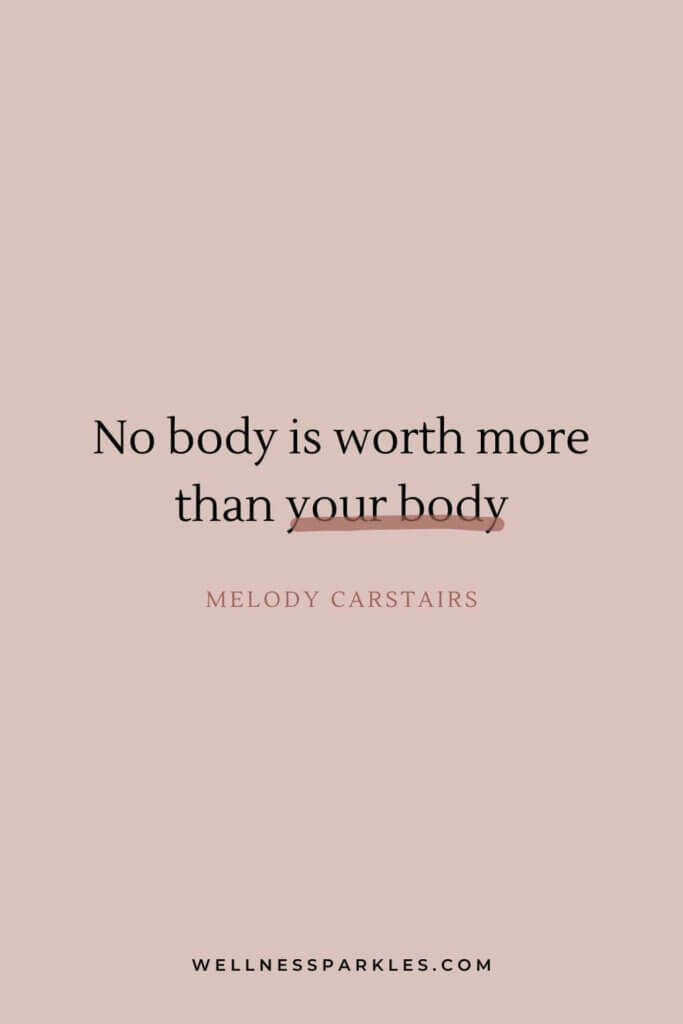 Give your body positive attention."
— Adrienne Posey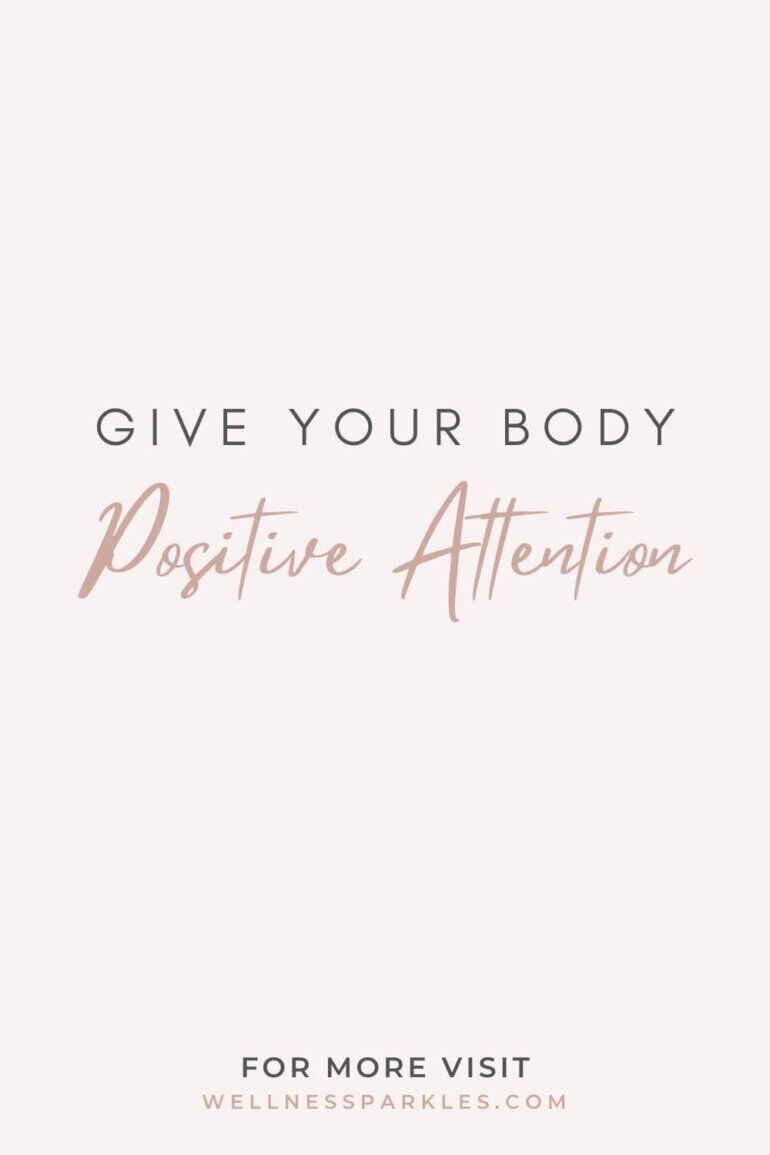 Our body is a sacred temple. A place to connect with people. As we aren't staying any younger. We might as well keep it stronger."
— Ana Claudia Antunes
the best way to stay healthy is to talk to your body first"
— Sonia Choquette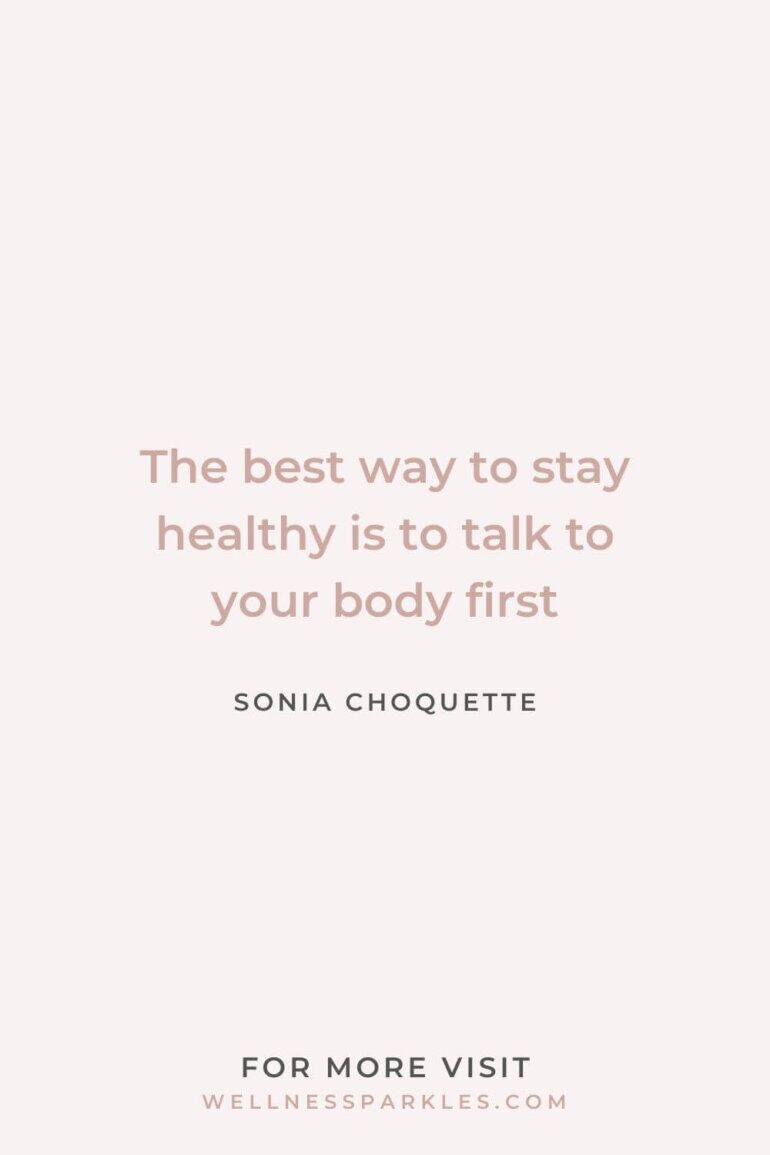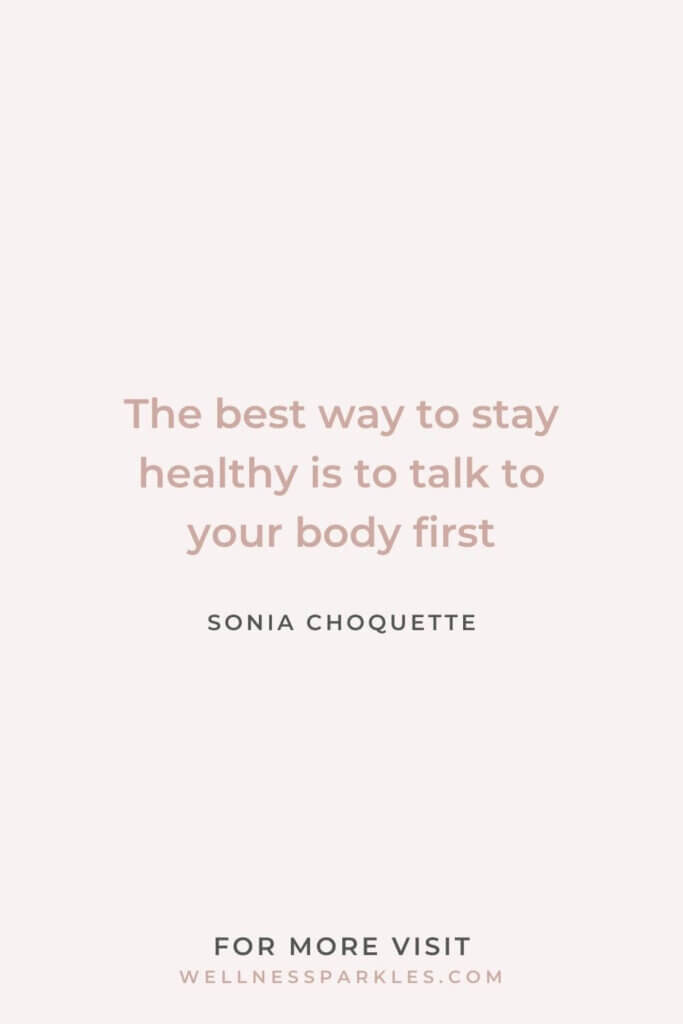 My Body Wants to Crave Healthy. I Just Need to Give it the Opportunity."
— Pooja Mottl
Before you worry about the beauty of your body, worry about the health of your body."
— Amit Kalantri
Weight loss is a sum of all of your habits – not individual ones."
— Helen M. Ryan
There is no dictionary in the world that includes the words 'skinny' or 'fat' under the definitions of 'beautiful' and 'ugly'. So, focus on being healthy and stop the self-criticism."
— Maddy Malhotra
Your body is not just yours. It is a gift and a responsibility."
— Thich Nhat Hanh
A healthy body is not easily infected by external bacteria and viruses, a healthy mind too is not easily infected by external insults and undesirable events."
— Awdhesh Singh
Respect your body, and look forward to feeling healthy and clean. Your body deserves better than laboratory-made sweetness."
— Damon Gameau
Gym is a sacred place which makes your life feel worth existing by putting effort of care into the home of your soul called body!"
— Munia Khan
The body inherits what the mind engages."
— Brian S. Woods
I love to strengthen myself with a healthy diet, plenty of exercise and maintaining a strong connection to myself."
— Renae A.Sauter
A healthy body is a platform for flourishing a healthy mind."
— Pawan Mishra
A healthy body is a gift. Don't take it for granted. Don't treat it like some cheap one-night stand. Treat it like the love of your life. Treat it with respect and tenderness, but most of all, gratitude."
— jt geissigner
Love yourself. Care for your body. You are God's image."
— Lailah Gifty Akita
Our body teaches us that health lies in balance and harmony, rather than in conflict and fighting."
— Ilchi Lee
Bodies always tell the truth. They give us hints of how to listen for it, and to recognize it when we hear or see it."
— Robin Rose Bennett
A healthy body is a gift. Don't take it for granted. Don't treat it like some cheap one-night stand. Treat it like the love of your life. Treat it with respect and tenderness, but most of all, gratitude."
— J.T. Geissinger
Laughter and love are their own forms of exercise meant to keep a body healthy."
— Richelle E. Goodrich
Our bodies are designed to remain in balance, and when they go out of balance, a natural mechanism has been interfered with." —DEEPAK CHOPRA Not"
— Russell Simmons
Being healthy is not only about the foods and drinks you put in your body. It's also about the people you place and keep around your body."
— Sabrina Newby
To be at a healthy weight is accepting the care of your body. Read your hang tags. They say you only have one body and you best care for it your self to enjoy the life it has in store for you."
— Susan Peacock M.S.R.D.
I live in my body, my house, so I better be good to it."
— Paul Khan
Not only is breathing meditative and good for calming stress, but it improves brain and immune system function, cleanses the body, and purifies our minds."
— Darin Olien
Like any other part of the human body, activity makes the brain healthy."
— Abhijit Naskar
You must transform your confidence in order to transform your body."
— Josh Bezoni
Healing happens when we learn how to listen to our body. Your body knows exactly what it needs to be radiantly healthy."
— Catherine Carrigan
Don't make your body a trash can or chemical dump."
— Amar Chandel
He who desires to enjoy life desires to possess good physical health, for a healthy body is almost essential to a happy life;"
— Rupert H. Wheldon
We seem to take notice of our body only when health is lacking. With that lack of recognition comes a lack of motivation and incentive to stretch."
— Rand Olson
Cleaning up your body and life is not a race, so you should never feel like it's an all-or-nothing approach. Do what you can, as you can, and celebrate those little successes along the way."
— Gina 'The Veggie Goddess' Matthews
Physical fitness is not only one of the most important keys to a healthy body, it is the basis of dynamic and creative intellectual activity." John F. Kennedy"
— Pure Calisthenics
Keep the body pure and strong, and it will radiate light."
— Dada J. P. Vaswani
An unhappy gut is an unhealthy one, which can upset every other system in your body."
— Amy Leigh Mercree
I believe that if you can create the body of your dreams, you have what it takes to create the life of your dreams as well."
— Michael Matthews
A healthy body will give you the correct signals."
— Joel Fuhrman
One of the most important ways for you to train, stay healthy and injury free is to listen closely to what your body tells you."
— Gina Greenlee
Our bodies are our vehicles of life. They are ours to take care of. If we aren't taking care of them, they show signs of stress and wear. If we are taking care of our bodies, they show signs of healing and resiliency. A healthy body is an inspired body, and an inspired body is a happy body."
— Elaina Marie
Balance your body for better results. A balanced body improves electrical communication to muscles and gets you stronger, faster."
— Josh Bezoni
Healthy mind
It's up to you today to start making healthy choices. Not choices that are just healthy for your body, but healthy for your mind.
— Steve Maraboli
The ability to be in the present moment is a major component of mental wellness."
—Abraham Maslow
Your mindset matters. It affects everything – from the business and investment decisions you make, to the way you raise your children, to your stress levels and overall well-being."
—Peter Diamandis
Establishing healthy habits – like eating a healthy diet, getting plenty of sleep, and participating in regular exercise – can also go a long way to improving how you feel. Similarly, getting rid of destructive mental habits, like engaging in self-pity or ruminating on the past, can also do wonders for your emotional well-being."
—Amy Morin
People don't want to be talked out of their feelings. People want to be heard, seen, felt, and understood"
—Rachel Samson
Happiness is not something ready-made. It comes from your own actions"
—Dalai Lama
It isn't what you have or what you are, or where you are, or what you are doing that makes you happy or unhappy. It is what you think about.
—Dale Carnegie
I am no longer investing my time in things that leave me emotionally drained and physically exhausted"
—Alex Elle
Change your thoughts and you change your world."
—Norman Vincent Peale
A happy mind is a healthy mind, and a healthy mind is good for the body."
— Dalai Lama XIV
Letting go of anger will not only create peace of mind, but will send a ripple of health throughout your body."
— Charles F. Glassman
Though asanas are very beneficial for the body, their real value lies in training the mind and thus making oneself a fit and healthy vehicle for the soul."
— Fr. Joe Pereira
Remember, you are not your emotions or feelings. They are just energy moving around your body and temple and they need to be released."
— Melissa Ambrosini
The quality of our thoughts and emotions impact our body more than the quality of the food which we eat."
— Maddy Malhotra
Practicing reflection daily ensures a healthy and invigorating lifestyle for both your mind and body. Your thoughts will be the key to your success."
— Farshad Asl
You can create a healthy body, a loving relationship, a magnificent life and ultimately carve an ULTIMATE YOU with your thoughts."
— Parul Prashar
Exercise your mind the same as you would exercise your body. Practice healthy mental habits that will help you, empower you, and improve your perspectives. Practice them daily."
— Akiroq Brost
In meditation, placing our attention on the breathing takes the mind from daydreaming, worrying, thinking, and fantasizing. It gives our mind something healthy to do."
— Sakyong Mipham
How meditation can help you with stress and how to meditate
The Health of your mind can determine the health of your body. A healthy state of mind can create a healthy state of being."
— Tamara M. Jones
Healthy soul
When we heal ourselves, we heal the world. For as the body is only as healthy as its individual cells, the world is only as healthy as its individual souls."
— Mark Nepo
We are spiritual beings walking around in these crazy skin suits. Our insides are much more important than our outsides."
— Rory Freedman
Time doesn't heal emotional pain, you need to learn how to let go."
— Roy T. Bennett
Peace comes from within. Do not seek it without."
— Gautama Buddha
Anger, resentment and jealousy doesn't change the heart of others– it only changes yours."
— Shannon L. Alder
The primary cause of unhappiness is never the situation but your thoughts about it."
― Eckhart Tolle
We are not human beings having a spiritual experience. We are spiritual beings having a human experience."
— Pierre Teilhard de Chardin
To love is to recognize yourself in another."
― Eckhart Tolle
You are what you eat.' And that fact applies infinitely more to your soul than it does your body."
— Craig D. Lounsbrough
We tend to think of nourishment only as what we take in through our mouths, but what we consume with our eyes, our ears, our noses, our tongues, and our bodies is also food. The conversations going on around us, and those we participate in, are also food. Are we consuming and creating the kind of food that is healthy for us and helps us grow?"
— Thich Nhat Hanh
We must care for our Soul while we nurture a healthy body."
— James Patrick Lane
Start each day by saying to yourself: 'How amazing it is to be alive! What a wondrous feeling I have inside! I am awake, healthy and full of joy!' Visualise every cell in your body being filled with vitality, health and love."
— Miranda Kerr
Real, lasting health is rooted in something deeper than the physical body."
— David Romanelli
Conclusion:
That's it! This was a long one. Hope you've noted your favorite wellness quotes to keep getting inspired from them daily. So tell me Which quote is your favorite?
Get inspired with these health and wellness quotes