Why this tea
Since I've started having some gut issues this last couple of months, I was looking for some natural remedies to help me with the bloating, gas, and all that discomfort. I've read about the amazing benefits of oregano oil and also olive leaves extract, so I thought of mixing these two together. And it was one of the best ideas I've ever had.
Benefits of oregano for digestion:
Oregano oil (found in oregano leaves in flowers) rich in antioxidant properties and high in phenolic content.
Antibacterial effect:
Bad bacteria always find a way to your stomach no matter how clean your food is, these bacteria are supposed to get killed by stomach acid but sometimes when the acid is not strong enough, they get pass it and make it to the intestine and then cause a lot of symptoms such as gas, bloating, diarrhea or constipation and also heartburn. Oregano which its amazing antibacterial properties can help you with these bacteria by its polyphenols carvacrol and thymol

Also, Oregano oil has much higher level of total antioxidant activity than vitamin E.
A leaky gut is when bad bacteria can leak through the intestine wall and enter the bloodstream which later can cause a lot of diseases. So, since the oil in oregano can kill bad bacteria, it can help you with the leaky gut problem by killing those bacteria before entering through the intestinal wall.
Check these 10 effective ways to cleanse your gut naturally
other benefits of oregano
Can fight cold and flu symptoms

Helps fight inflammation

Boost immune system

Help detox the body
Benefits of olive leaves:
Olive leaves extract can Boost your immunity

As the previous study mentioned, OLE can also prevent cardiovascular diseases

it can reduce tooth pain
Pin it to make it later!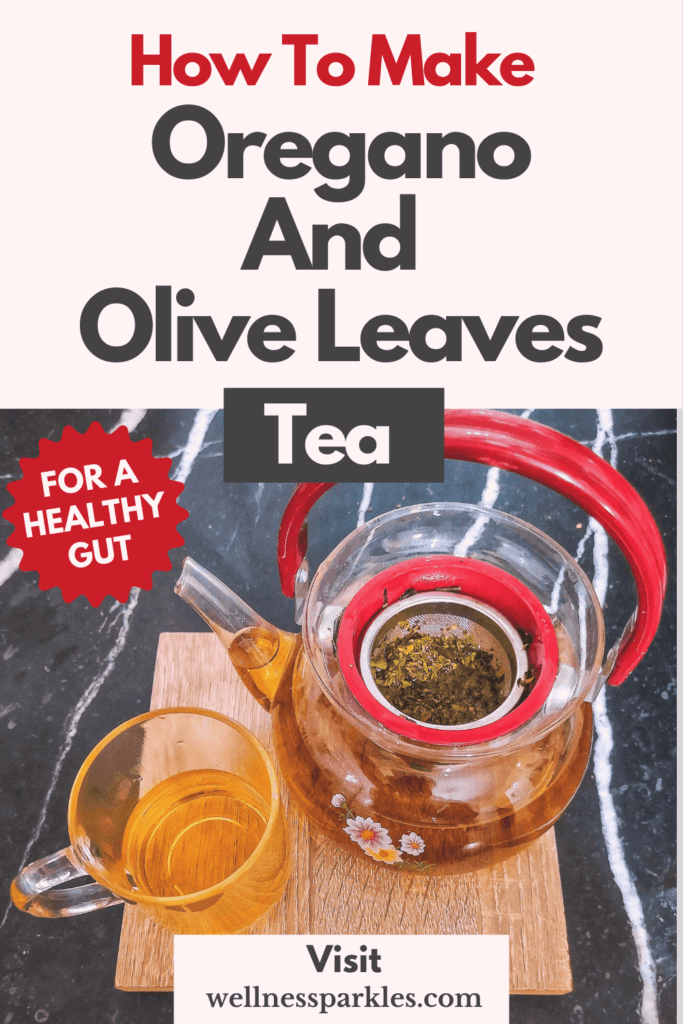 Now let's make it!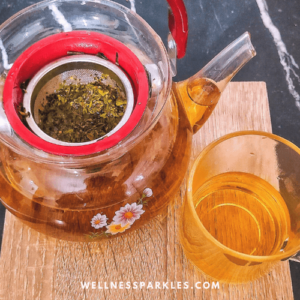 Oregano And Olive Tree Leaves Tea
Oregano and olive tree leaves tea for gut health and other digestive issues
Ingredients
2

tsp

Oregano leaves

5-6

medium

Olive tree leaves

fresh

1

L

Hot water
Instructions
Heat water in a saucepan or tea pot to boil

Put olive tree leaves and oregano leaves in a strainer

Pour cold water and then wash them properly

Put them in a cup (or in a tea pot with a strainer that look like mine in the photo)

 Leave it for about 20 minutes, until its color becomes darker

After that you can pour it in a cup and put the rest in a glass bottle for later. Enjoy your tea!